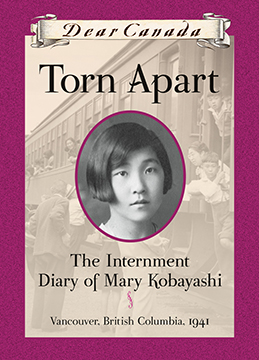 This poignant title in the award-winning Dear Canada series explores a young Japanese Canadian girl's life in British Columbia, leading up to her experiences at an internment camp.
In 1941 Mary Kobayashi, a Canadian-born Japanese girl, is enjoying her life and family in Vancouver. She likes school, her friends, and above all else she yearns to have her own bicycle. Although WWII is raging elsewhere, Mary's world has been scarcely affected.
On December 7, 1941, Japan attacks Pearl Harbor … and everything changes.
Suddenly a war of suspicion and prejudice erupts on the home front. Japanese Canadians are stripped of their rights, their jobs and their homes. Mary is terrified when her family is torn apart and shipped to various work camps. She and her two sisters are sent, alone, to a primitive internment camp in B.C.'s remote interior. Here Mary spends the duration of the war, frightened and uncertain about how it will all end.
Author Susan Aihoshi draws from her own family's experiences during "The Uprooting" of the Japanese in B.C. during WWII to craft this important addition to the
Dear Canada
series.
Read more about Mary Kobayashi's life in the internment camp in Scholastic Canada's anthology,
A Time for Giving
. The short story, "Dear Sachi," looks at more of Mary's challenges while living in the remote B.C. interior.
Buy
Torn Apart
from your local bookseller.
Or order online from
Chapters/Indigo
or from
Amazon.ca
.